It's been a long time..ok a year, I'm lame…since I've posted here.  As we travel around, I get a lot of questions about the tech setup and working full time while traveling, it's only natural to point them to this blog.  I guess that makes it time to give an update!  I'm not going to go too far back in time here, just this summer since we've finally moved to being full time on the road.  We've lived in our Airstream for just over two years, but only being able to make the occasional trip.  At the beginning of July we started the journey we intended.  This summer I think we covered some good ground, visiting family and generally enjoying some new places as well as "old" favorites.  As I'm writing this I'm at my first Harvest Hosts winery, Stacked Stone Cellars, in Paso Robles, CA, it's late October, in the 80s/90s and sunny, so maybe summer isn't over just yet…
July
Departing Vancouver BC, our first stop was Blaine Washington where we stayed a few weeks to wrap up some last minute details in Canada as well as visit my sister.  We revisited the Birch Bay RV Campground and Beachwood Resorts, both available through our RPI and Coast to Coast memberships.  Birch Bay is a cool little town, a nice place to hang out for a while, but as we'd spent time there before I didn't even collect pictures (what's up with that?).  We also used the time to deliberate on where we were going.  We wanted summer and wanted to avoid high heat.  At this time eastern Washington was already hitting the 90s and even a 100, but the Olympic Peninsula was still in the low 60s.  We finally split the difference and choose to explore a little of the Puget Sound, an area that in 17 years we'd never really been through.
Our first stop was an overnight in Anacortes before hitting the ferry.  We got there late in the day, but there were still several spots at the marina.  $20 for first-come-first-serve dry camping, not too shabby.  You can walk right into town and grab dinner, do some shopping, overall we'd do it again, maybe even spend a couple days.
The next morning (cough…we never get out early) we headed down to our first ever ferry ride with the Airstream.  I've been on ferries where the slope of the ramp is such that I couldn't imagine how one would ever get a trailer onto it.  For a couple days I was imagining tail dragging the trailer onto the ferry.  Those lanes must have been reserved for small cars, because all my fears came to nothing when it was time to board.  Logically I figured that would be the situation, how otherwise would large semi trucks get onto them?
Port Townsend was our destination.  Unfortunately as we learned, there were a couple festivals happening and finding any place to stay was difficult.  We opted for at least one night at the Point Hudson Marina which has a bunch of RV parking right on the water.  It's a short walk into a nice little downtown area with shopping and restaurants we both liked.  There's also a great little farmers market where I think we bought more than we could store in the trailer.  The downside of the location was the wind, cold wind, not a very summer-like wind.  It's also one of the more expensive locations we stayed at.  Luck was on our side, and we were able to stay for a whole week.  As we soon discovered, this was going to be the typical problem throughout our summer.  Weekends fill faster than we ever thought, each new location was a gamble on whether we'd be able to stay the week, allowing me to work, we relentlessly watched the state parks sites for openings.
August
After the cool winds of Port Townsend, we decided it was time to move a little south.  A couple hours later we found ourselves in one of our favorite new locations, Scenic Beach State Park.  Aside from the hideously gorgeous scenery on the beach, this park has gargantuan sites.  Scenic Beach also provided us with our first experience dry camping and prompted us into finally purchasing a generator.  While we have a ton of solar, the trees prevented us from getting much of a charge and we ended up having to use the generator for a few hours one day.  I'm torn about generators, ours takes a lot of space and so far we've little use for it.  On the other hand, if it comes down to being able to work or not…the generator is a win.
Our generator choice
I fret over things quite a bit these days, and the generator is one I've been thinking about for a long time.  The Honda eu2000i is a very popular choice.  It's quiet, reliable, you can link two together for a 30amp setup, and they can be converted to dual fuel (propane/gas).  They are also pricey.  Yamaha has a great contender as well that potentially matches the Honda.  The third choice however is what we went with.  A Champion 3500 watt dual fuel inverter generator.  It's a bit noisier than the other two, but it is half the price for the wattage, and already supports propane.  It's also twice as heavy and twice the size (as a single Honda generator) which makes moving it around tougher.  It's still a great choice, and I think it will work well for us despite the space it takes.
Next up…another state park…almost.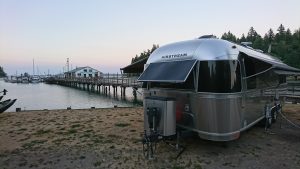 Finding summer locations in the area on the weekends is almost impossible.  We did reserve a stay at Penrose State Park, but had a couple days between the two parks that we needed a place to stay.  After fretting over this for a day, I just happened to notice that there was a marina near Penrose State Park.  I zoomed in and took a look, whala! I saw trailers in the satellite images.  Lakebay Marina did not show up on any of my typical resources (I've since added to Campendium but neglected the review).  Despite that it was dry camping, we booked a couple nights and dropped in.  Seriously, it doesn't get much better than this.
The next day we checked out Penrose, and I found the roads sort of navigable but the one available site (which we had reserved) would have been very "interesting" to get into.  Lakebay Marina was mellow enough that we were able to end up staying for two weeks, and for a chunk less money than the state park.
Lakebay Marina is not fancy by any means.  Several buildings are practically falling over, it's dry camping, and there are no showers, but the owner wants to make improvements and revive the marina to its former, or maybe future, glory.  I think if that happens we may loose out on a gem of a place (because more non-locals will discover it).  It's simple, it's gorgeous, and even when the bikers are camping there, it's pretty quiet.  Local musicians played several nights, the burgers and beer are good (and about all that's on the menu), and you can see stars at night.  Need to go walking?  Head into Penrose park, it's right next door.
Our most beneficial purchase for this location was a standup shower tent. There are no showers available here, and with no hookups, your option is to head into the state park. We were able to get a hose to fill the tank and take showers every day without filling our tanks. The tent was quite the spectacle for those who came by for a burger and music, seemingly more than the Airstream it was next to.
Well, I've partook in another wonderful glass of Stacked Stone wine and it's getting later, so I'll just have to split this into two posts.   Unfortunately (for me), Beth is traveling again, so this is missing her input.  I'd take a guess that her favorites were Scenic Beach and Lakebay Marina.  They certainly made August pretty awesome.
A thought on full time traveling
I've wondered often what kind of travelers we are.  Having been in many countries around the world, one type of travel we're used to is planes trains and hotels, often compliments of collecting various points.  Traveling with our home is of course, a very different experience.  Less exotic, more natural, and sometimes simply displaced.  I am discovering that moving weekly makes me weary and feeling like I didn't do anything but work.  On the other hand, after a couple weeks in even the most beautiful spots, I'm ready to move on.  I also don't like to travel more than 250 miles in a day, it starts to frazzle ones nerves.